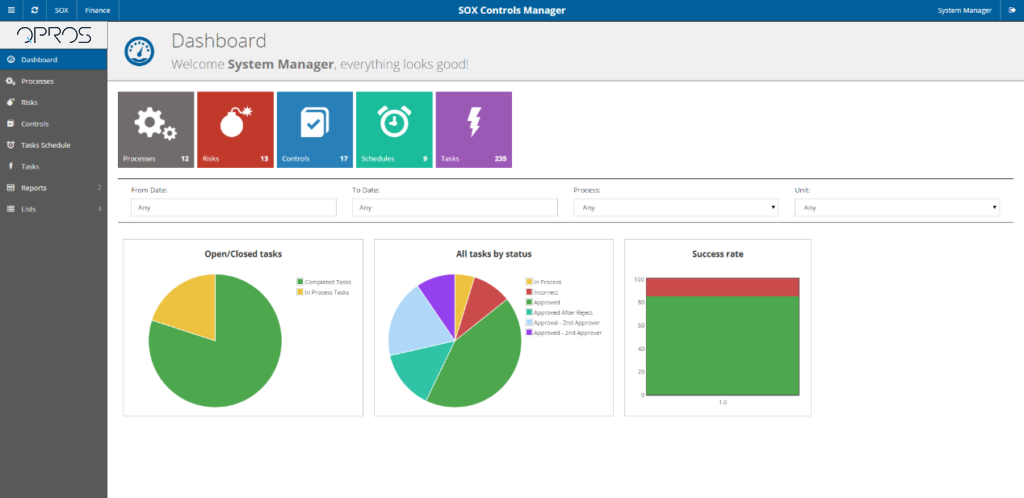 SOX Compliance Solution is a comprehensive yet modular solution to all the needs outlined by our customers and their consultants. DPROS offers several products and modules that can be implemented as stand-alone products or integrated to form one complete, comprehensive business solution.
SOX Manage Related Processes, Risks, Controls & Tasks. It provides preventive and detective Controls with relevant data from SAP through automated periodic alerts within any required time-frame, such as monthly, quarterly, or yearly. These items, as well as additional items, including audits on system alterations and changes to sensitive information, can be automatically distributed by email to stakeholders according to role. We enable special change management notifications for sensitive information, such as: general ledger, credit, and more. We track and notify when users have the necessary permissions to make changes to critical information as defined by the organization, for example, as a user defined as an administrator who has full access to edit or view information when this is not required by his or her job description, or a user who can approve an entire process such as purchasing.
SOX includes a control panel for the SOX manager to manage and review these periodic controls and tasks. Any alert, control, task or report can be automatically placed in a shared storage location or distributed by email.
SOX Control Panel / Scorecard
A solution that contains all definitions of SOX processes, risks, controls, and tasks, as well as active controls and their corresponding auto-generated tasks. It includes a relevant report from SAP and allows for task creation and scheduling as well as tracking their completion status (active, late, and completed).
This module can also automate alert and status report distribution by email and let a busy manager always stay up-to-date even if he or she is out of the office or not in front of a SAP interface. The designated auditor or compliance manager can attach files and notes as needed in order to manage all the necessary details from a single location.