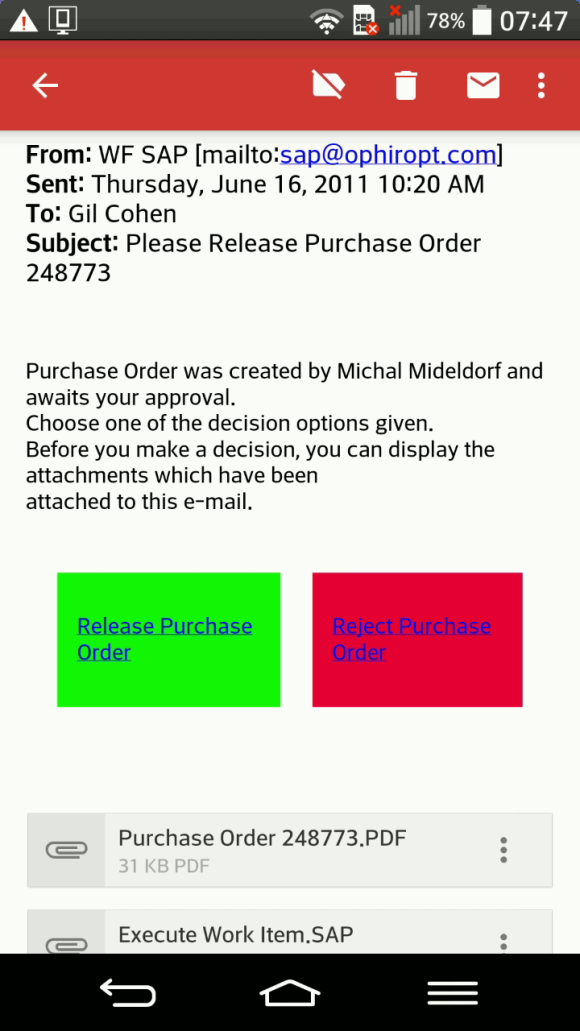 01 Feb

DPROS OnTheGo Approval in PO/PR @ Netafim

Netafim, the global and innovative leader in drip and micro-irrigation solutions, successfully deployed DPROS' Purchase Requisition and purchase order workflows in its SAP system. The workflow is complemented by the renowned OnTheGo Approval mobile application.

Netafim was looking for a SAP based, fully blown industry proven solution, yet flexible enough to be easily customized to Netafim specific business processes.

The solution had to enable:
• Purchase Requisitions (PR) and Purchase Orders (PO) approval cycle
• The approval process has to be an efficient and easy task for its users, performed without disrupting the everyday business continuity and routine
• PR & PO approval via mobile application. As a global company, Netafim approvers have to have the ability to approve the PR/POs anytime, regardless of their global location, (SAP) connectivity or smartphone/mobile device type
• Reduce a thousands of release strategies and replace them with Low maintenance solution
• Enhanced budget control and accountability
• Manage PR budget control process worldwide
• Mobile application has to be secured
• Continuous monitoring of the approval process and high visibility into the process at every stage.

DPROS' implementation empowered Netafim to change its purchasing strategy, streamline the entire process by increasing the overall business agility and enabling operational efficiency. By providing full visibility and clarity into the PR/PO status, complemented by ease of use, it allows Netafim to lower significantly the system maintenance, impacting the company performance and business agility.

OnTheGo Approval has been incorporated in the solution and allows business users to approve PR/POs on-the-move, anytime, from any worldwide location, regardless to their real-time/offline connectivity, secured. It mainly allows Netafim approvers to be self-sufficient, without any disruption to their daily routine.